The best local dishes in Da Nang utilise fresh seafood and various cuts of meat (and organs for the most adventurous of diners) as well as local herbs and greens, resulting in a myriad of colours and flavours that you won't get anywhere else. As one of the most underrated cities in Vietnam, Da Nang offers a wide range of inexpensive yet unique dining options.
The best thing about Da Nang dishes is that they are often made to order, so you can easily customise them according to your preference. Therefore, no trip is complete without trying out at least one of these famous food locals love to eat in Da Nang.
Mi quang (Vietnamese turmeric noodles) – Món ngon Đà Nẵng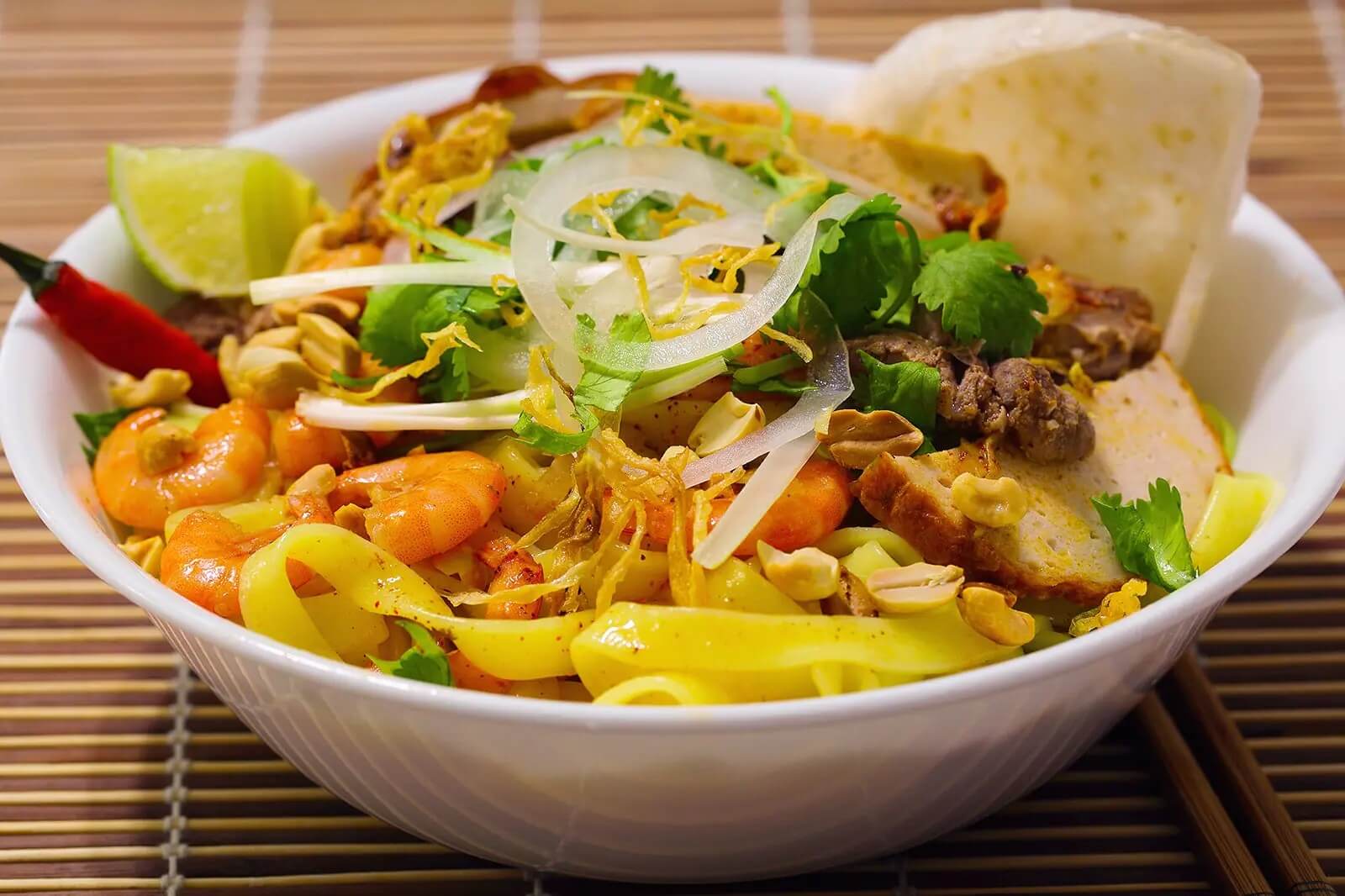 Mi quang is Da Nang's definitive dish, featuring rice noodles that are tinted yellow using turmeric and bone broth seasoned with fish sauce, black pepper, shallot, and garlic. Meat toppings include river shrimp, boiled quails eggs, and roast pork, though some eateries use fish, chicken and beef slices.
Lastly, the ensemble is topped with an array of fresh herbs such as basil, peanuts, coriander, lettuce, sliced banana flowers, and sesame rice crackers. You can also opt for chilli peppers for a spicy kick to your bowl of mi quang.
YOU MAY NEED TO KNOW:
KM UNION Law Firm assists foreign investors throughout Asia from offices Ho Chi Minh City, Hanoi and Da Nang. Readers may write to mainhi.law@gmail.com and hotline/zalo: 09 32 12 44 27 for more support on doing business, living in Vietnam.
Da Nang Office: 42 Do Quang, Thanh Khe District, Da Nang, Vietnam
Bun thit nuong (Vermicelli noodles With grilled pork)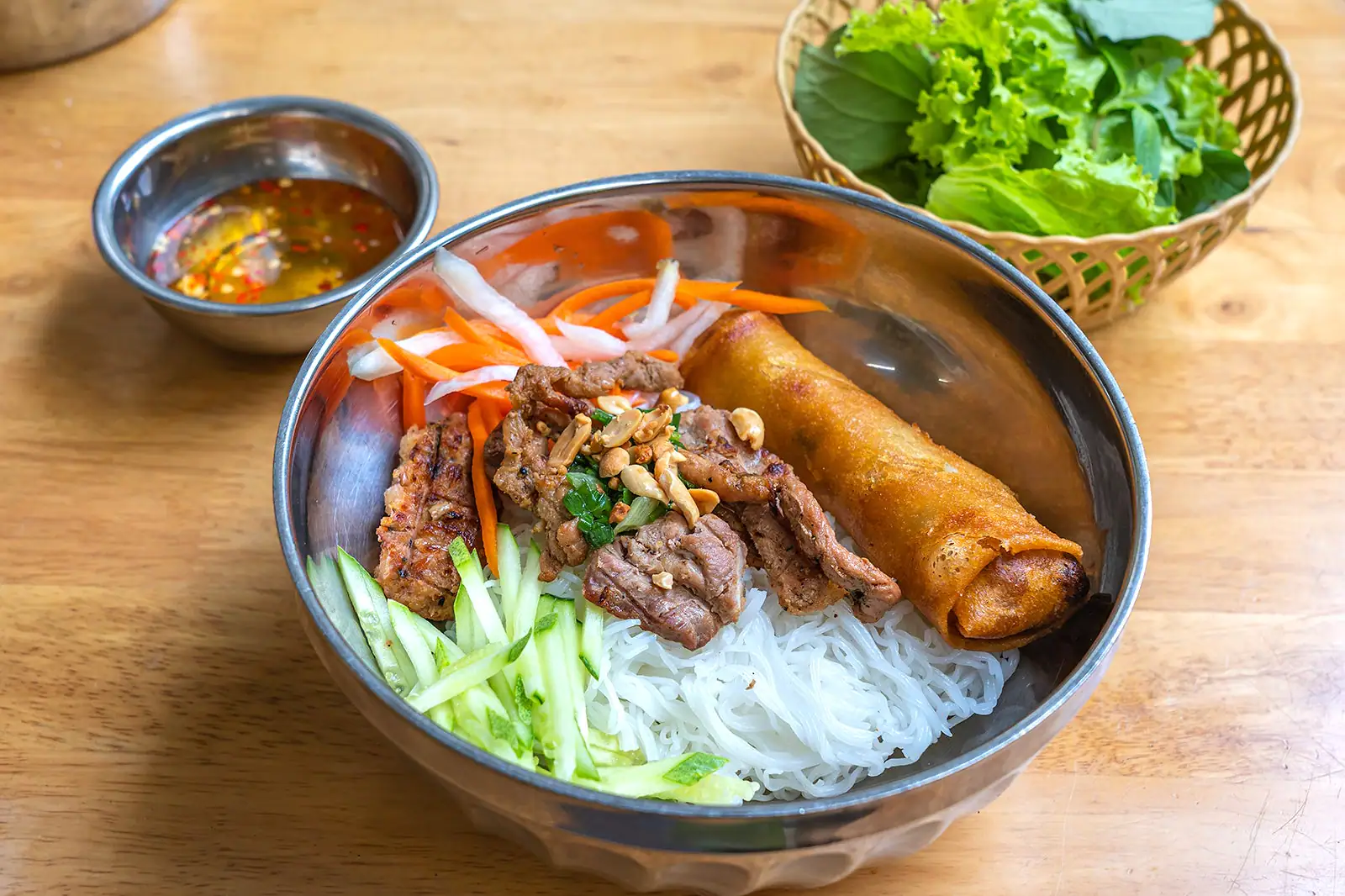 Bun thit nuong comprises thin vermicelli rice noodles, freshly chopped lettuce, sliced cucumber, bean sprouts, pickled daikon, basil, chopped peanuts, and mint, topped with grilled pork shoulder.
Diners can also opt for bun thit nuong cha gio, which comes with crunchy slices of cha gio (deep-fried eggrolls). As with most Vietnamese dishes, you also get a side of nuoc cham sauce to mix into the bun thit nuong for a flavourful ensemble.
Vietnamese BBQ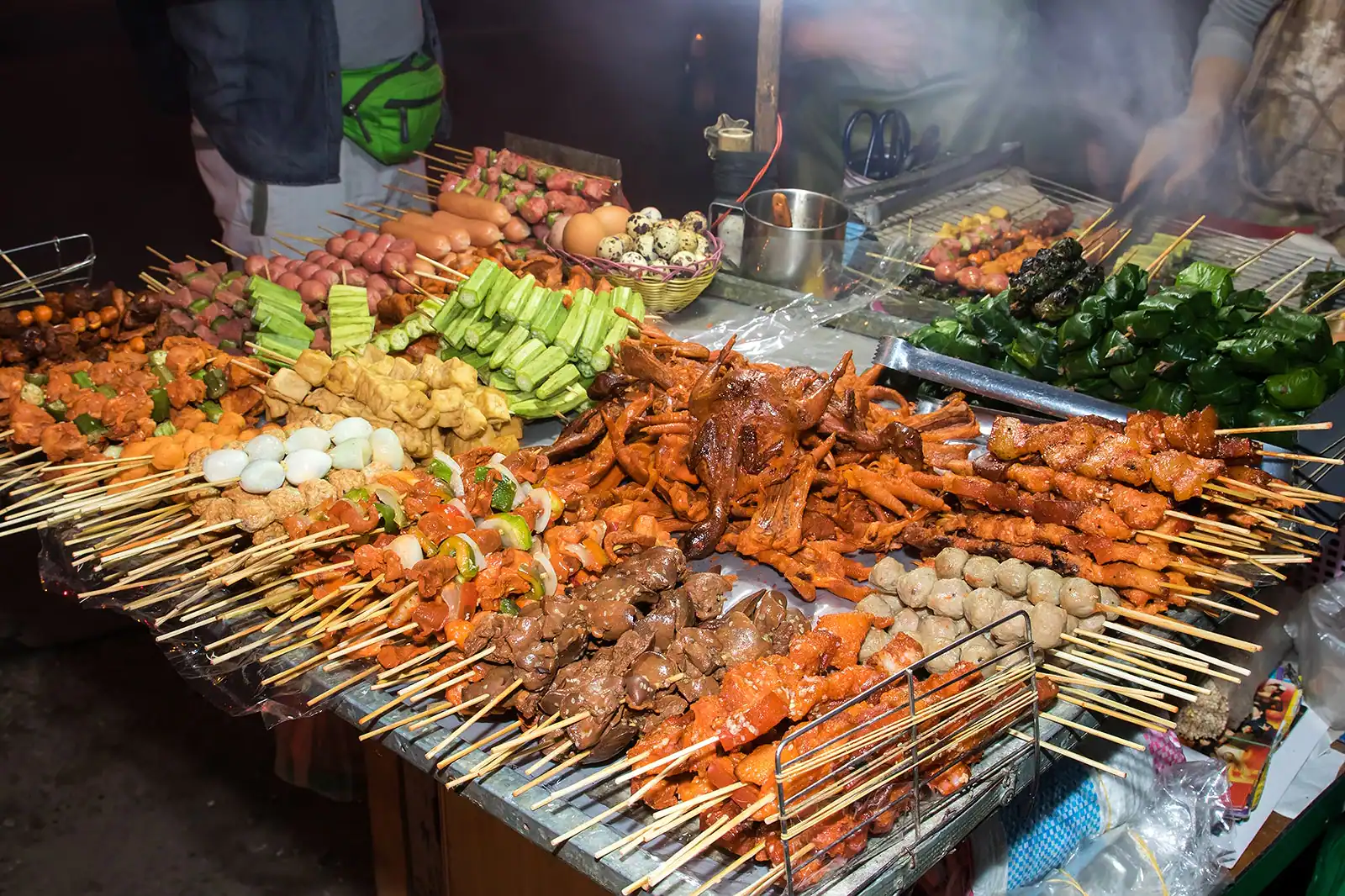 Da Nang is particularly popular for its BBQ offerings, where a wide array of fresh seafood and meat slices are barbecued atop a charcoal grill stove. One of the best places in Da Nang to enjoy this delicacy is Quan Hue Ngon at Tran Quoc Toan Street.
You can enjoy plenty of marinated ingredients for your Vietnamese BBQ, including squid, frog, octopus, pork, shrimp, and beef tendon.
Bun cha ca Da Nang (Fishcake noodles soup)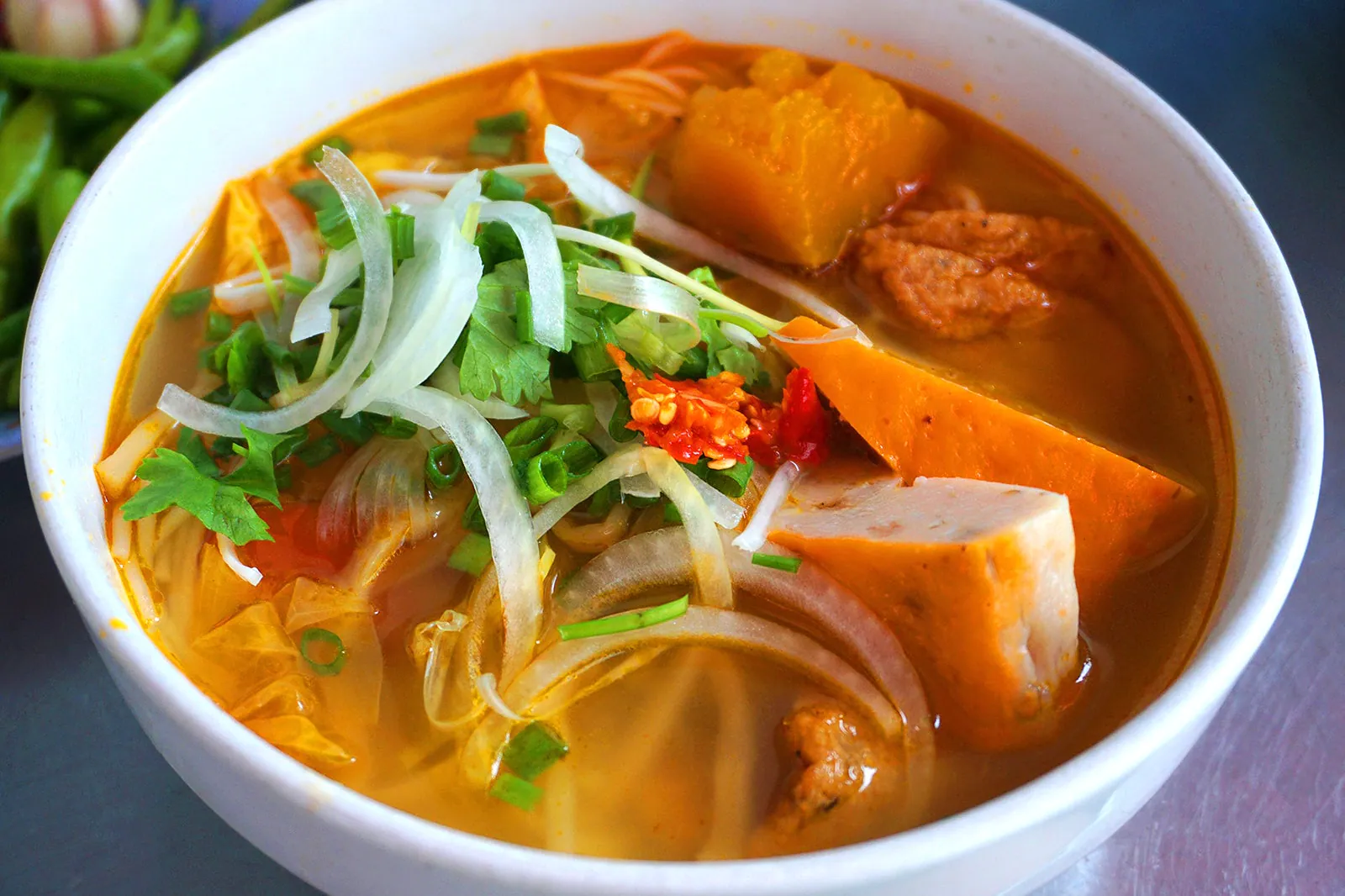 Bun cha ca (fishcake noodle soup) is popular with seafood lovers due to its generous chunks of grilled fishcakes, green onions, beansprouts, mint leaves, and fine rice vermicelli noodles. Using a choice of mackerel, barracuda or lizardfish, the meat is marinated with garlic, pepper, salt, and chilli before it's kneaded into small pieces then grilled until fully cooked.
The broth is prepared by simmering a mix of fish bones, pumpkin, cabbage, pineapple, tomato and dried bamboo shoots, resulting in a rich, hearty, and flavourful ensemble.
Com tam (Broken rice)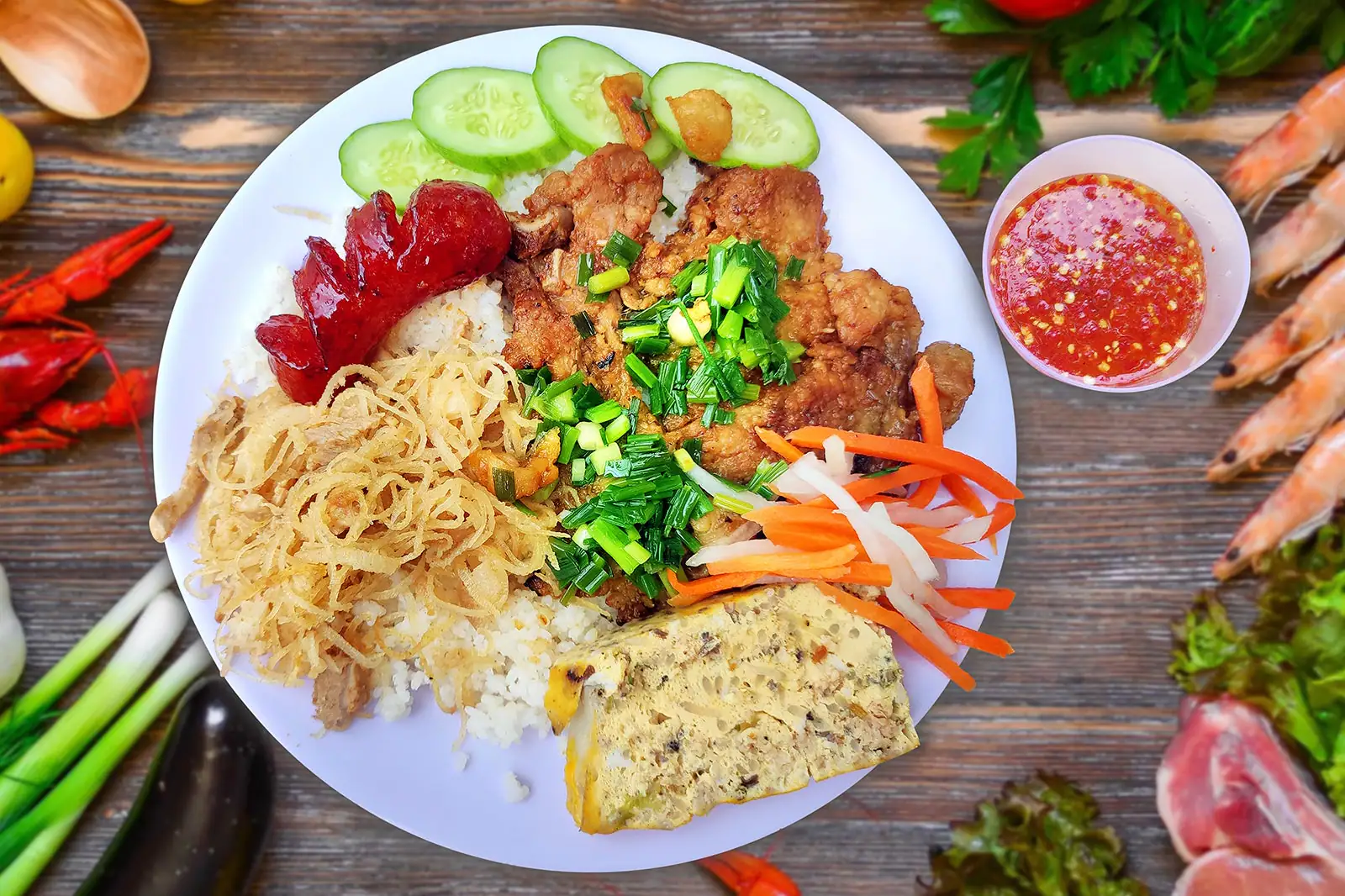 Com tam is Vietnamese for 'broken rice'. This local dish comes with fried egg, diced green onions, and a variety of meats such as suon nuong (barbecued pork chop), bi (shredded pork skin), and cha trung (steamed pork and egg patty). You can also enjoy this dish with a side of pickled vegetables, cucumber slices, and nuoc cham (Vietnamese dipping sauce).
Street markets and roadside food stalls sell com tam at rather affordable prices, making it a very popular dish among budget-conscious travellers.
Com chien (Vietnamese fried rice)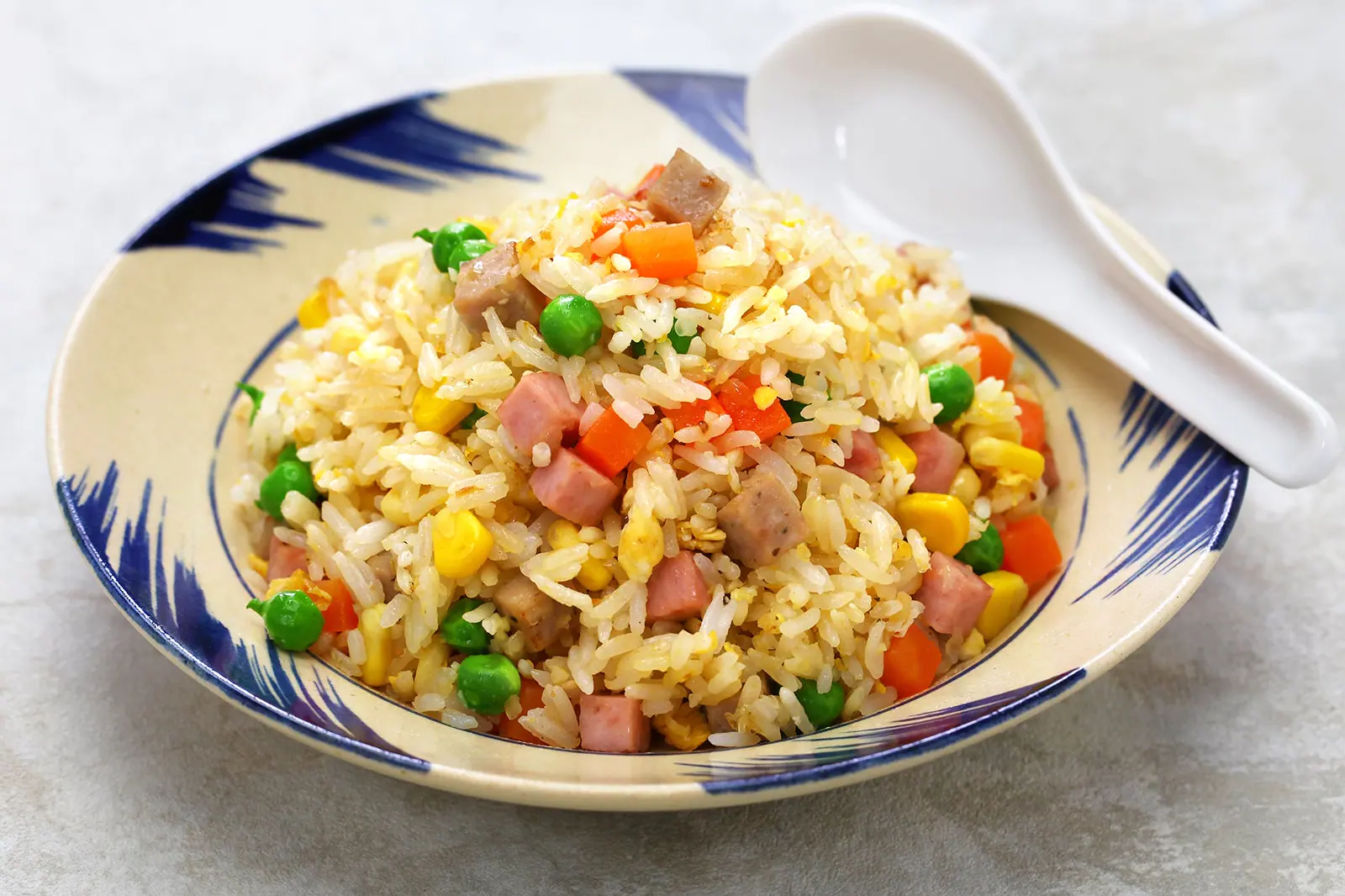 Com chien is a simple dish that can be enjoyed at any time of the day, making it a good option for those looking to enjoy a simple, quick, filling, and inexpensive dish in Da Nang.
Com chien consists of leftover steamed rice, garlic-infused oil, and an array of meat, seafood, and fresh vegetables. After everything is stir-fried in a sizzling work, the dish is garnished with fried shallots, parsley, and coriander leaves before being served with a side of nuoc cham (dipping sauce).
Nem lui (Lemongrass pork skewers)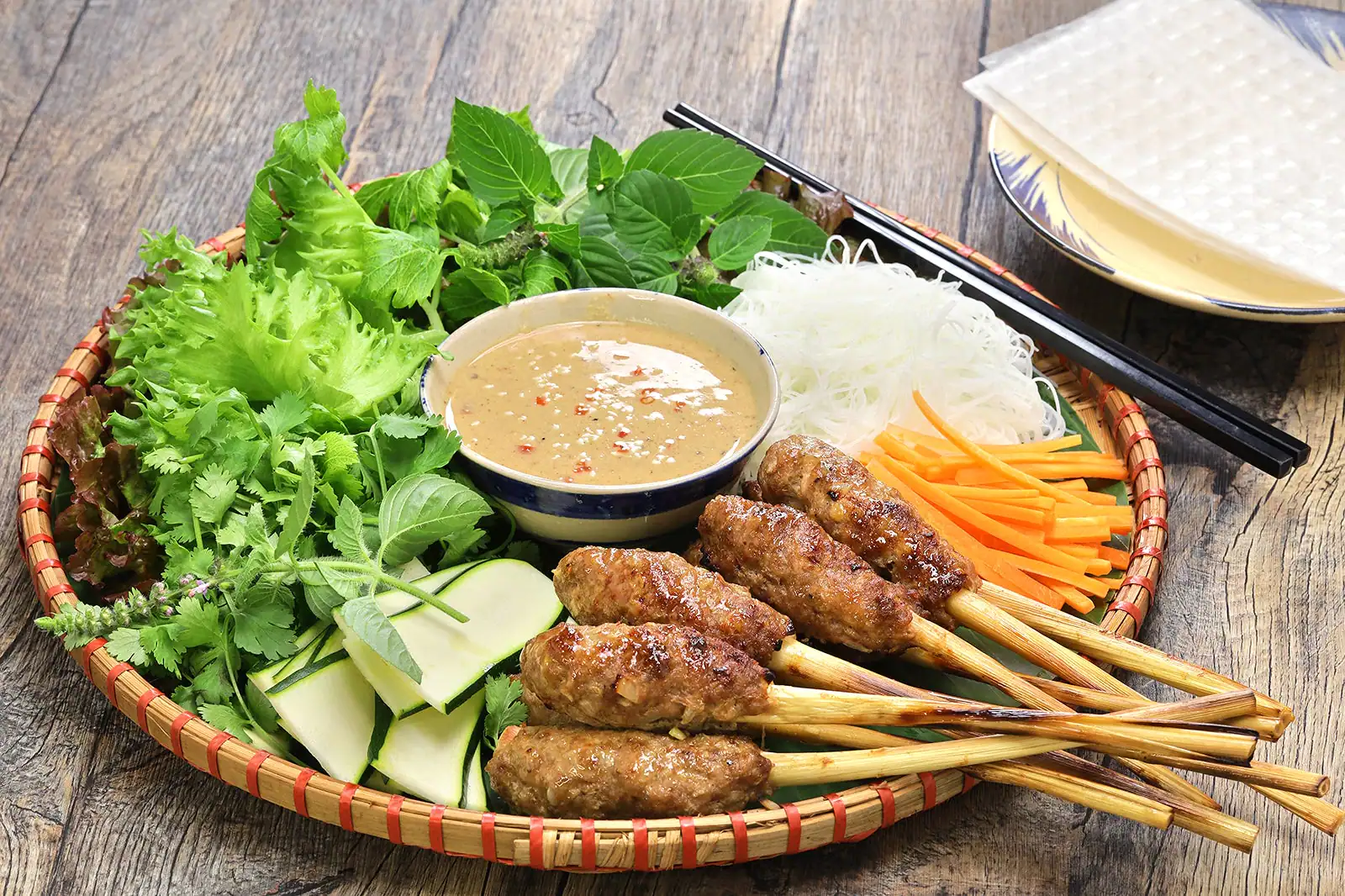 Nem lui is a traditional snack that originated from Hue, but is available in Da Nang's markets, street vendors, and Vietnamese restaurants. Also known as lemongrass pork skewers, the meat is a mixture of milled pork, pigskin, pig oil, salt, pepper, sugar, and a locally grown spice called thinh.
The skewers are grilled on a coal stove before being served with a side of rice paper, fresh herbs and vegetables. As with any delicacy in Vietnam, you can also add chilli slices and/or dip it in nuoc cham sauce for added flavour.
Chao tom (sugarcane prawn)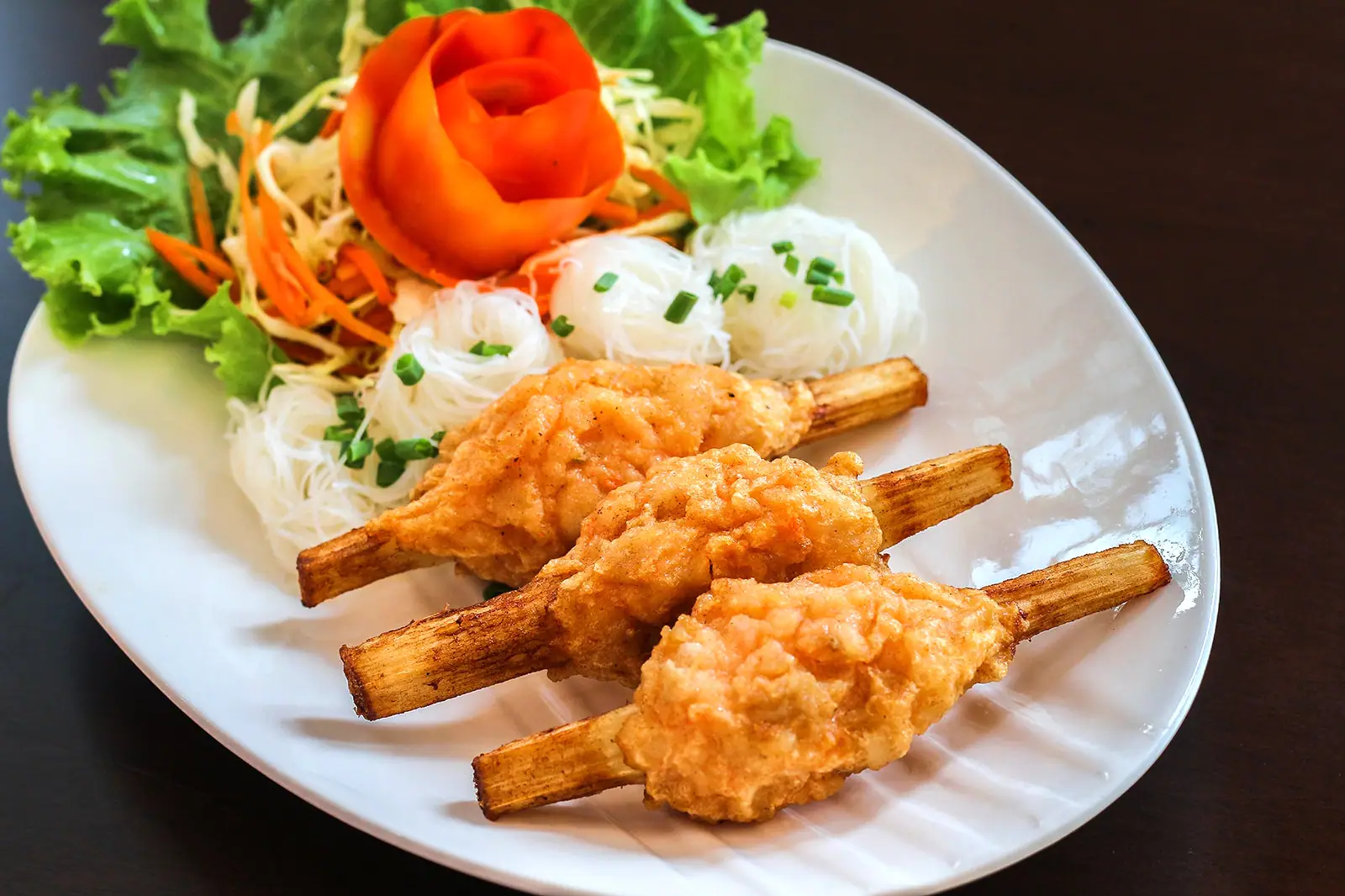 Chao tom is a type of grilled appetiser that's made of shrimp and garlic paste wrapped around a piece of sugarcane. Soft, rich, with a sweet-savoury flavour, the meaty paste is then removed from the sugarcane, wrapped in lettuce leaves with local herbs, and dipped in nuoc cham (dipping sauce).
Chao tom is often paired with local beer or wine. Alternatively, you can chew on the sugarcane for a sweet taste.
Banh xeo (crispy pancake)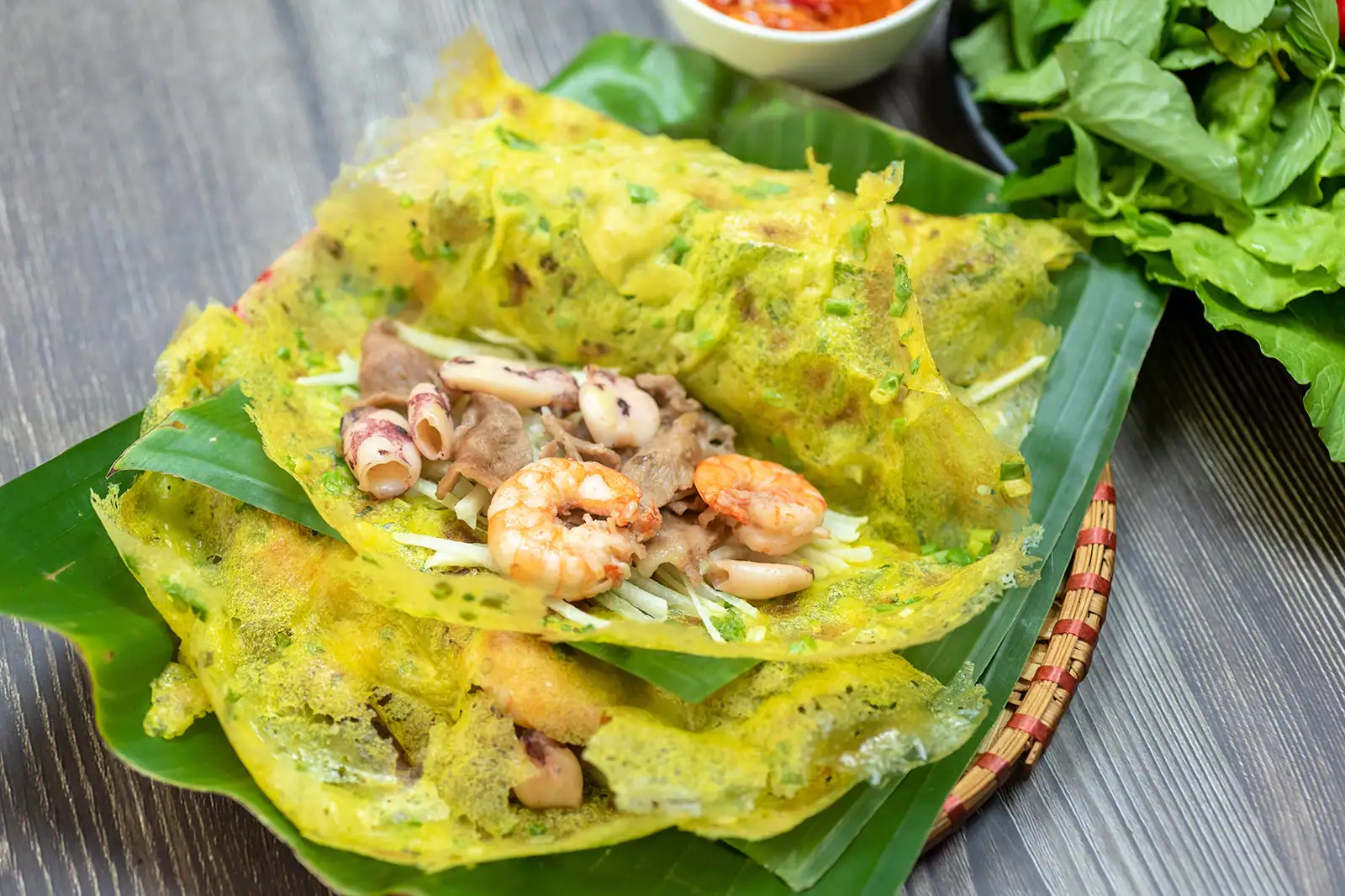 Banh xeo is a savoury pancake that's made of rice flour, coconut milk, and turmeric. It's filled with various ingredients such as vermicelli noodles, chicken, pork or beef slices, shrimps, sliced onions, beansprouts, and mushrooms. Usually eaten as a snack or appetiser, you can find banh xeo sold at roadside stalls, local markets, and restaurants within Da Nang city centre.
A great way to enjoy a crispy pancake is by wrapping it in mustard leaf, lettuce leaves or rice papers together with nem lui (lemongrass pork skewers), mint leaves, and basil. Don't forget to dip it in some fermented peanut sauce.
Rau cau trai dua (coconut jelly)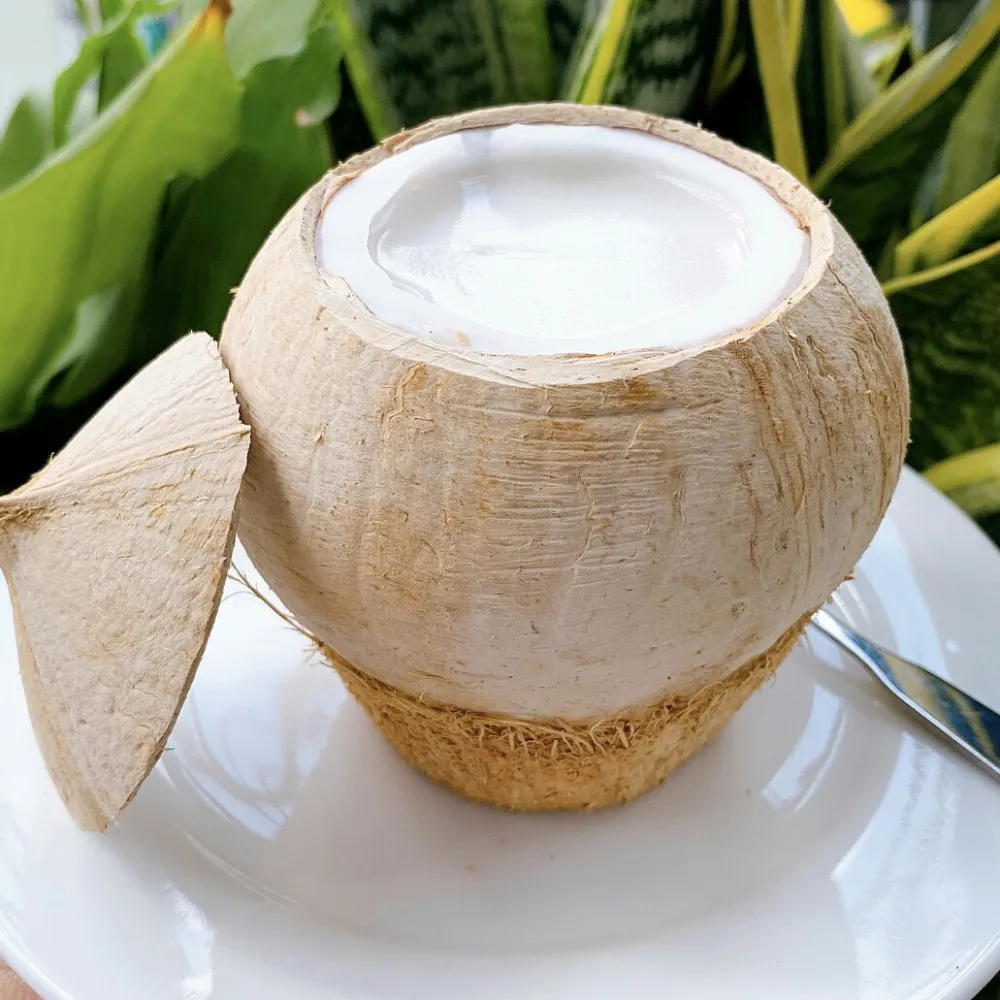 Rau cau trai dua (coconut jelly) is a light and refreshing Da Nang dessert with just the right amount of sweetness. The top layer is custard-like coconut cream, while the bottom consists of jelly made with coconut water and seaweed called agar-agar.
You can find numerous dessert cafes selling coconut jelly along Bach Dang Street, facing the Han River. Rau cau trai dua is a good dessert option for travelling vegans.
Cre: Hotel.com